the girl
Zara / '95 / Indonesia
------------------------------
an alternative style blog

(and more)
------------------------------


connect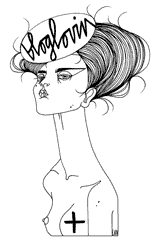 friends

blogrolls

Thursday, February 6, 2014, 12:39 PM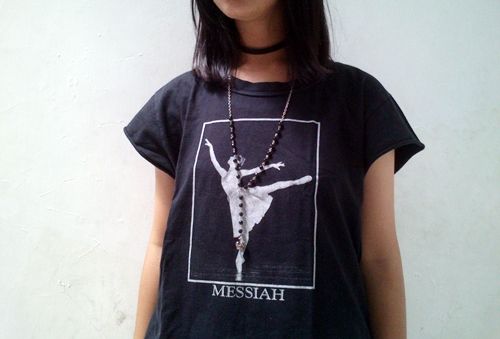 topshop dress / thrifted top / diy choker and necklace


Hi everyone! Here's a simple outfit I wore to go shopping yesterday!
I've been seeing lots of tulle skirts on blogs and street snaps and I wanted to get on the bandwagon without looking too cutesy. Not that there's something wrong with being cute though, it's just that I can't pull it off without looking like a giant grumpy child! The skirt I'm wearing is actually a dress I got from Topshop years ago (also wore it for my Marie Antoinette inspired outfit) and the ballerina printed crop top is thrifted because I'm cheap like that.




dr martens aggy strap boots / lost mannequin winged backpack


Anyway my Aggy Strap boots are finally here!!! After winning a crazy bidding war on eBay and waiting for weeks I'm super excited to wear them and share them in an outfit post! On another note I am now totally broke and therefore can't afford a better camera to take better outfit pictures so please excuse the grainy phone camera pics until I save up enough money to buy a new camera without being tempted to buy shoes.

Labels: blogging, fashion, outfit post

5 comments | Leave a comment

Friday, January 31, 2014, 10:48 PM


So in an attempt to get myself back into blogging I decided to write a new feature! It's kinda like a summary of the month, in which I will write about my favorite activities, books, music, movies, blogs, and other things that I'm loving that month. Hopefully I can keep up with this feature that I will post at the end of every month, I'm really excited to share my love for things that inspire me and make me happy with you! Enjoy

♥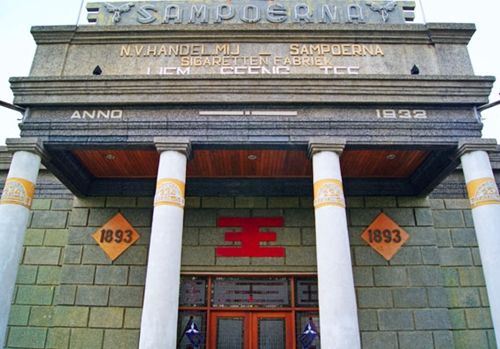 Yesterday I went to House of Sampoerna Museum with my parents. The wonderful Dutch colonial-style building is located in the old part of Surabaya. It has exhibits on the use of cloves and the history of clove cigarettes in Indonesia. When I first entered the building, the smell of cloves and tobacco was in the air (just how I imagine a goth club smells like). Other exhibits include personal belongings of Liem Seeng Tee' the founder of Sampoerna. There were a bike, family photos from various eras, even a kebaya that was once owned by his wife.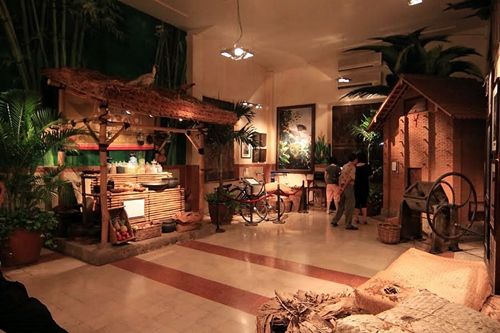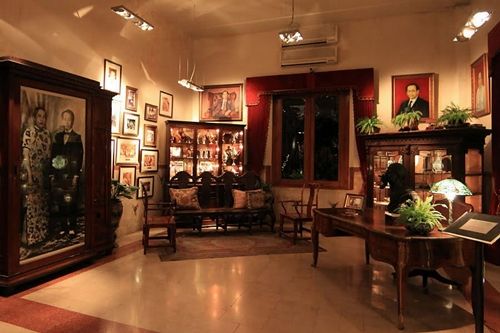 The building was intented to be used as Sampoerna's first major cigarette production factory, and it still is! Upstairs there's an unforgettable view through its wide glass panel where you can see the factory's shop floor, where hundreds of ladies hand roll, trim and pack the Dji Sam Soe brand in frenzied and feverish pace.



As we exited this main museum building, we headed for the restaurant in the side building for a light lunch. The cheesecake was totally one of the highlights of this trip! The place was lovely, it's a fantastic example of Art Deco architecture. Imagine what it would be like to be here 50 years ago! If you're in town, this place is a must visit. The buildings at this site are fantastic, they have fascinating exhibits, and the best thing is that the entry is free!

Things I love this month...
♥ An entire month off before next semester starts!
♥ This piano tribute to Fall Out Boy's Miss Missing You
♥ My mom making Daft Punk jokes
♥ Green tea milkshake
♥ Sleeping in every day!
♥ My long bob!
♥ Saving so many time that was once used for hair styling
♥ Please Kill Me: The Uncensored Oral History of Punk. Such a fascinating book.
♥ Plaid everything
♥ Vacation planning with my best friends (We're thinking waterpark because why the hell not)

That's all for now! Happy Chinese New Year for my Chinese babes, have a fabulous and prosperous year ahead and thanks for the day off! 0 comments | Leave a comment

Thursday, January 23, 2014, 9:55 PM
The ever-so-amazing Miss Nicolette Mason
Stockholm Street Style


dELiA*s / MKL plaid skirt




Nasty Gal tulle skirts


Despite its popularity among models and street style stars, it's still sort of stuck in my "never-would-I-ever" list. It's not that I don't like it, more like the midi skirt doesn't like me! The idea of wearing a voluminous amount of fabric that visually bisects your calf doesn't seem good to me. In the mean time I'll just admire them and the super stylish girls rocking the hell out of their skirts from afar.....
Talking about admiring them, personally I really like midi skirts made of interesting fabric like jacquard, satin, tulle, or even leather. It adds interesting edge and dimension to an otherwise prim and proper skirt. Printed midi skirts are also really cute, plaid is my favorite! I can't help but pin lots of pictures of midi skirt + cropped or tucked in top combo. Bonus points for wearing it with ankle boots, these skirts were totally made to be worn with ankle boots. Guess it's my thing now?
Would you wear the new length for skirts? Should I jump into the bandwagon?

Labels: fashion, inspiration

4 comments | Leave a comment

Friday, January 10, 2014, 11:53 AM

I've been getting a lot of questions on my Ask.fm about how to style band t-shirts and merchs and I think it's about time I write a blog post about it and make it sticky!

Music and fashion always go hand in hand, whether it's a designer creating a look for an artist, a band inspiring a look or an artist trying their hand at designing. This also applies to band t-shirts. Unlike regular t-shirts, by wearing a band t-shirt you're making a big statement about your musical taste and that says quite a lot about what kind of person you are. To me it's a way of recognizing like minded souls, you see someone in your favorite band's t-shirt and you know you are on the same wavelength musically. I have these crazy stupid fantasies that I will one day create a mutual bond with someone over our shared love of a band signalled by their or my t-shirt.

Now let's get to my inspirations to show you ways to style your band shirts!



1. Playtime - Fall Out Boy t-shirt
The most obvious use of a band t-shirt: for play! The band t-shirt + shorts combo is classic and comfy enough to wear when you're going out to a show or even just running errands. Put your belongings in a sassy skull-shaped crossbody bag and accessorize with boots, a beanie, and lots of friendship bracelets to make this outfit festival-ready. Don't forget your sunglasses!



2. Dark Decadence - Siouxsie and The Banshees t-shirt
For those who prefer their clothes a little darker and their music a little gloomier, I picked a Siouxsie and The Banshees t-shirt (my favorite!) to wear with leather leggings and kimono-style outerwear. These textures will keep your all black outfit from looking boring without all the unnecessary frills. Complete the outfit with stompy platform boots and wicked accessories.




3. I'm With The Band - Hole t-shirt
This one is a more glamorous take on band t-shirt. Add a fitted skirt and heels, throw on a statement necklace and you're good to go! The leather jacket and sport-luxe watch add the model off-duty vibe to the outfit without losing the edge. Also, how sick are you of the term "model off duty?" Also, how cute are these Valentino heels? Sighs dreamily.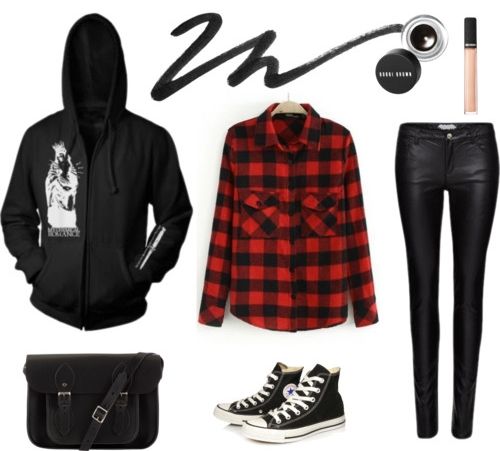 4. Band hoodies
Band hoodies are rather tricky to style because sometimes it's all too easy to look like you're wearing gym clothes when you're rocking a hoodie. Layering is an easy way to make your hoodie look less athletic and more fashionable. The plaid shirt + waxed jeans + sneakers combo makes this outfit class-appropriate, just carry your textbooks in a sling bag and add a dash of eyeliner and call it a day!




5. Band sweatshirts
Luxury sweatshirts have been all the rage for the past seasons and they don't seem to be going anywhere. Once reserved for the gym and lazy weekends, the sweatshirt has emerged as a high fashion item and wardrobe staple for the fashion-obsessed crowd, regularly appearing on top tier runways and consistently selling out at luxury retailers. Bands sweatshirts, while are way less cheaper than their designer counterparts, can also make a statement and look fashionable. Amp up the feminine side with on-trend leather skater skirt and platform sneakers, throw on a spiked headband, and make sure your lashes are up and batting at cute guys (or girls!)

Tips on wearing band merchs
1. Personally I don't mind people wearing band t-shirts without even liking the band, but that way band t-shirts have just kinda lost their meaning. It would be nice to know some songs and a thing or two about the band before wearing them out.
2. Don't be afraid to mix high and low fashion! Band t-shirts offer a cool contrast to polished pieces and they look especially great paired with unexpected, ultra-feminine pieces like heels and fitted skirts.
3. Most of band t-shirts are boy's model but worry not, oversized band t-shirts can be DIYed to fit your liking. Here's a bunch of DIY t-shirt ideas!
4. There's nothing quite like a well-worn t-shirt, faded just so and perfectly soft from repeated wearing and washing. If you just bought a new band t-shirt and want that soft vintage feeling RIGHT NOW, there's a cheat sheet for that. Soak your shirt in salt water (4 cups of water + about 60 g of salt) for 3 days. Machine wash with a dash of detergent and tumble dry. Instant vintage soft t-shirt by yours truly.
5. Face it: it's a band shirt, there are no rules! Have fun!

Labels: fashion, how to, inspiration, music

3 comments | Leave a comment

Saturday, January 4, 2014, 5:31 PM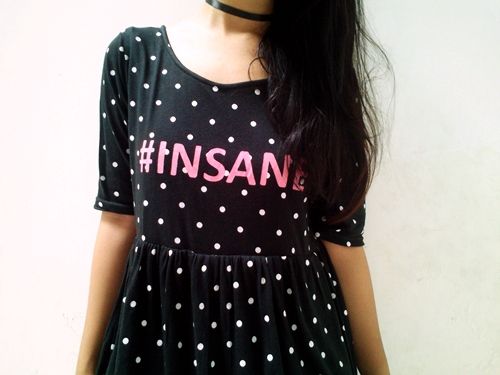 loony store dress / diy ribbon choker / diy leg garters / nike sweet classic


I know, I know.


My dress has hashtag insane printed across my chest. In pastel pink. Might as well add #yolo #wild #turntup all over it. Not to mention it's polka dot. Like, I think polka dots are adorable on petite tweet girls in peterpan collars and fabulous rockabilly ladies and Minnie Mouse but not on me. I just don't do polka dots! I've always been a stripes kind of girl but I still couldn't resist the sweet siren call of this dress.

But fear not, for I have not changed! I know a fashion risk when I see one.
I totally underestimated how fun it is to break out of old patterns and try something new, something completely unlike what you would normally do. This dress makes me feel whimsical. They make me feel summery and happy. This outfit reminds me of my carefree childhood.
It's great to have yourself "set" on a certain style but sometimes it's nice to get out of your comfort style zone and wear something that you would never have considered before. Experiments are also a way to learn what works and what doesn't, and who knows you may find something looks great on you that you would probably never know until you tried it!


Have you bought anything that isn't your style? How did you wear it?

Labels: fashion, outfit post

4 comments | Leave a comment

<< take me back______________________________take me forward >>

SKELETALE by Zara Zahrina. Copyright © 2012-2014. All Rights Reserved.