the girl
Zara / '95 / Indonesia
----------------------------------------
alternative style blog (and more)
----------------------------------------


connect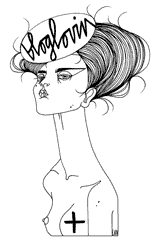 friends

blogrolls

Monday, December 9, 2013, 9:25 AM
style icon: vampira

Two inch nails / Micro waist / With a pale white feline face / Inclination eyebrows to there /
The Misfits pretty much sums it up.

Vampira was born Maila Nurmi in Finland on December 11, 1922. She moved to the U.S. to her family and later went to study acting in NYC. After attending a masquerade ball dressed in a tight black Morticia-esque dress, a television producer tracked her down looking for someone to host a late night horror movie program. The world's first horror host was born.



Morticia may have inspired Vampira's look, but she was really a persona of Maila's imagination. She created Vampira out of combination of sex and death, lash to ashes, lust to dust. Vampira's personality was based on elements of several silent film vamps such as Theda Bara as well as the Evil Queen from Walt Disney's Snow White and the Seven Dwarfs. She borrowed Charles Addams's Morticia and added elements of fetish meets Old Hollywood glamour. Cinched wasp waist, plunging necklines, blood red lipstick and matching claws, the original glamour ghoul was dressed to kill.

Vampira would appear on the television screens all over Los Angeles gliding through a hallway surrounded by fog. She would let out a blood-curdling, piercing scream before reclining on a Victorian sofa decorated with skulls to introduce the movie of the evening. The Vampira Show was an immediate success. No one has done a character to introduce films before. Vampira would go on to be remembered by goths, cult film geeks, and the fashion obsessed freaks for years to come.


The Misfits and Vampira
(my favorite guys and ghoul!)




It's simply impossible to foster a love for B-grade horror movies without developing a crush on Vampira at some point. Taking cues from her on screen glamor, I tried to recreate Vampira's iconic uniform!
Instead of the usual tight black dresses, I used a leather pencil skirt and a fitted cropped top to define the waist. The accessories are a nod to Vampira's macabre and glamorous persona, including a sunglasses that reminds me of Vampira's own bat sunglasses. These Charlotte Olympia heels have spiderweb-esque straps and I can totally see Vampira wearing them while walking around Hollywood Boulevard scaring people off.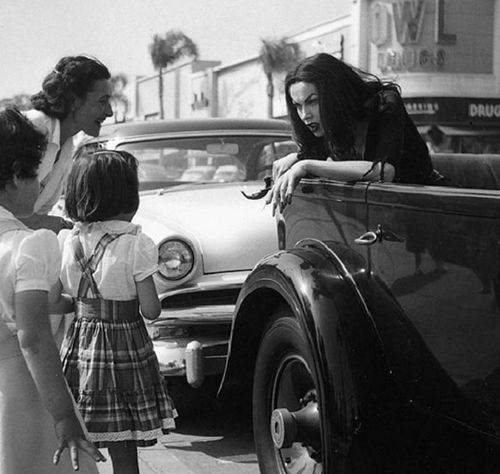 me in 5 years


"But I don't want to look like Vampira!" you say. "How about a teenage Vampira?"
As you wish, darklings. Here's an oldschool-ish outfit still inspired by Vampira, but instead of what Vampira would wear it's more like what I imagine a Vampira fangirl would wear. There are bats everywhere because Vampira looooves bats and other spooky creatures. Also, how cute is the "Vampira Ghoul Gang" tee? Also, bubble tea. Because of reasons.




I hope you like my Vampira fashion inspiration and outfit ideas!
Who do you think I should write about in my next style icon post? Leave a comment below and let me know what you think!

Unpleasant dreams, darlings.

Labels: fashion, inspiration, muse




0 comments

Tuesday, December 3, 2013, 8:06 PM

thoughts: surabaya youth carnival talks


picture credit: @SurabayaYouth


Hi everyone!
In an attempt to become a better functioning member of society, last Sunday I went to Surabaya Youth Carnival in Surabaya Town Square. In a nutshell, it's a non-profit event held by youth of Surabaya (I'm totally not included tho) that features TEDx-style talks, creative market, and community booths from all around town. Sounds pretty convincing, doesn't it?
At first I wasn't planning to attend any of the talks because I'm broke and it costs 100k but that morning the lovely Mbak Hesti asked me if I would go to one because she got invitations. I was like sure, why the hell not. Freebies! Also I totally owe her a lot (especially if one day I get extremely successful from the motivation I get from the talks).
They had two talk sessions about education and creativity. Guess which one I picked?
Creativity, no shit. They had a pretty sweet lineup of speakers that consists of Handry Santiago (CEO of General Electrics) Shafiq Pontoh, Usman Hamid (social media gurus) and mega babe Melanie Subono. The talks were super casual and fun yet still really inspiring, especially the part where Melanie talked about unlimited creativity. It hits me the most.



Melanie told us that there is nothing that limits us from getting what we want and being who we want to be. The only limit are the ones you make yourself. It's all in your brain and the only person who can get rid of said limit is yourself. She continued talking about finding your "passion" and do the fucking best you can do at whatever your passion is. As cliche as this sounds, it's actually true. Not the passion part, I mean. Personally, I believe not many people just woke up one day and realized that "Yes, this is my passion! This is what I want to be for the rest of my fucking life!". That probably happened to very few people, but not the rest of us. I prefer the idea that you don't follow passion, but rather cultivate it through new skills. The sense of competency, accomplishment, impact and connection that comes from exercising these skills is what brings out a passion for what you do. In other words, first you work your ass off and then you harvest the passion.
It all depends on what you truly want in life and what you're willing to sacrifice in order to get it. It's all about discovering what truly makes you happy, then going for it without apology, making your choices without regrets. Passion is still necessary though, if you are not passionate about what you do, you simply won't have enough grit to pull you through the tough parts. And lets be honest, there will be shitty times and enough angst to go around.
At this point, I'm really glad my parents never force me to do things that I don't want to do. They're all about finding what I really like and doing my best at it but the thing is I still haven't found that one thing. My widely varied interests in anything is sort of misleading me, if not guiding, to the way I really want to go. I ended up trying everything, sucking real bad at everything and giving up. But as Melanie said, when you get troubles at what you're doing it means that you don't really like whatever you're doing and you'll never get that shit done. It's either work your ass out of trouble or just forget it all together and move to the next one.




It was raining outside!


To start off my long way to become a Productive College Student slash Functioning Member of Society, I'm planning to volunteer for the next Sunday Market event (Tokyo Rising! I can dress up as a ganguro and still won't look out of place!!!) and it takes me shitload of courage. It sounds dumb, but I'm going to be completely honest here: I hate working with people. Group work is pure torture to me. But I realized that I can't do everything alone without slightly fucking it up and here's where people come to the rescue. The thing about working with people is that you get to see things from different perspectives. The more you get different knowledge, the easier for you to be creative.
As for now, I'm still trying to find out what I want to do and hopefully will not give up until I get really fucking good at it. The whole getting out of your comfort zone thing. Keeping my fingers crossed this time.

To anyone who has ever felt this way, we're all in this together. Get up and do shit. The limit is all in our heads anyway.


0 comments

Friday, November 22, 2013, 5:50 PM

Resep Indomie Kuah Susu: how to make it yourself

We all know that this is not exclusively a fashion blog so this time we're going to talk about food. You will thank me for this so please excuse my shitty pictures and explanations.
It all started many months ago, when a friend of mine told me that her friend's best friend tried the infamous Indomie but with kuah susu instead of water somewhere in Jogja. That's exactly 3 degrees of separation but with instant noodles. Back then I would cringe and say things like EW WHY WOULD ANYONE DO THAT SWEET AND SAVORY DO NOT MIX WHAT THE FUCK. Silly, silly self. Everything changed when on one sunny day I woke up really early in the morning and impulsively decided to go all Fear Factor and satisfy my gastronomical curiousity by trying to make this bad boy myself.

Somehow I managed to spread the word about this magnificent dish online and people have been asking me how I cook my noodle. Due to popular demand, here's a step-by-step tutorial of cooking your own Indomie kuah susu.



Get your shit together:
1. Indomie kuah in whatever flavor you fancy
2. Vanilla full cream milk. Other flavor is acceptable if you're a sick fucker
(Hint: you can use Bear Brand milk for extra creaminess)
3. Cheese. Lots of cheese. Totally necessary.

Let's get down to business!



1. Boil the hell out of your Indomie. I assume we're all impatient shitheads so if you're anything like me you will be tempted to turn the knob to get a huge ass flame and you will be scared. You might want to get something to read, your call.



2. While your Indomie is being cooked to its slimy delicious death, heat up your milk. Stir it to prevent the milk from forming gross ass lumps (learned this the hard way). Keep stirring until your arm hurts.



3. Strain your noodles and set that shit aside. You know how to do this. Simple shit.



4. Add the seasoning powder and chili powder if it's your thing.
Hint: if you can't stand the overwhelming creaminess you might want to add the oil seasoning. It will make your Indomie less creamy-milky and taste more like, well, Indomie.
More hint: milk neutralizes spicy food so if you're into hardcore spicy Indomie you might want to get extra chili powder to chuck in.



5. Pour your milk in! Mix that shit together! Things are starting to look right and you are one step closer to instant noodle nirvana!!!



6. Add a whole lot of cheese because you are a great person and you deserve it. You can cut some more cubed cheese and garnish that motherfucker. Make it look all fancy and shit. Almost done!!!



7. WE'RE DONE!! Congratulations! You successfully made your own Indomie kuah susu and now it's time to indulge in that shit and forget about your worldly problems for a while. Repeat.

Verdict:
WHAT THE ACTUAL SHITAKE MUSHROOM, THIS SHIT IS MAGNIFICENT.
Indomie itself is fucking good but this one is NEXT LEVEL, YOU GUYS. It's like normal Indomie but with creamy pasta-like sauce and additional 500 calories but it's SO WORTH IT. The best thing about this is that it's also dirt cheap and easy to make. Home alone, hungry and broke as fuck? NO SHIT, get your ass to the nearest Indomaret and get all the ingredients for less than Rp 10.000. Starving college student with no access to a kitchen? NO PROBLEMO AMIGOS, cook this son of a bitch in an electric water heater.
This satisfying meal is also packed with actual nutrition from milk so you will feel less bad about eating what basically is just dried flour and a shit ton of MSG. You can also add an egg if you're feeling extra healthy.

In a nutshell, Indomie kuah susu shame the shit out of other instant food and in fact IT IS THE MOST GLORIOUS INSTANT FOOD YOU WILL EVER EXPERIENCE. Trust me on this one.

Labels: how to, life, personal




0 comments

Saturday, November 16, 2013, 2:21 PM

how to style flannel shirt + t-shirt: a lazy girl's guide to class-appropriate outfits

Hi everyone!
Midterms turned me into a sleep-deprived whiny child but fear not, now that I'm done with that bitch I have returned into my default slightly less sleep-deprived and less whiny tween girl. This means I can post more about ~fashion~ and my life ramblings! Live audience applause please!

Back in high school I kept telling myself that once I get into college I will dress the fuck up and live like every day is fashion week. I would wear crazy shoes and biker jackets and a thousand black dresses every day of the week and look bomb ass and everyone will fall in love with me. Fast forward a year later, nothing came into realization as I still wear the same black jeans/leggings + black top/dress combo. In reality I only get to dress up like once a week and by dressing up I mean wearing clean ironed clothes (but even my dirty lazy clothes are quite fancy and I take pride in them). The saddest thing about this is that I decided to write a ~fashion~ blog.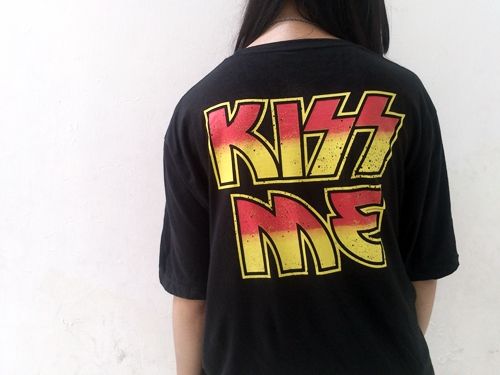 ORIGIN t-shirt


BUT THEN t-shirts came into being! T-shirts are comfy! And cheap! And don't need to be ironed! Since it's not particularly class-appropriate (and I feel naked in t-shirt + jeans) I feel like I should add something to give it more depth and interest. Come the classic plaid flannel shirt.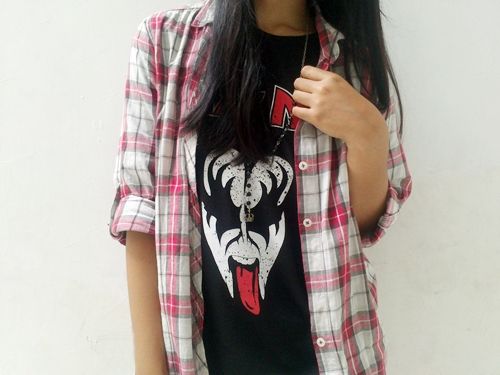 1. Flannel shirt over T-shirt
This is the first thing that came into my mind about this outfit formula because I'm just that creative. If you look closely you can also tell that this outfit complements my gayness really nicely. For a slightly more creative take on this you can knot the t-shirt to give it the whole effortless cool girl/hobo vibe. Add a denim jacket if it gets chilly (never gonna happen here). Outside of school you might wear a shirt over denim cut offs + crop tops or a dress.



2. Tied around your waist
The 90s are back with a vengeance and slowly creeping into the back of your wardrobes. For the record, I have no problem with teeny tiny crop tops or even gigantic platform shoes but I still very much agree that certain things should never come back. While it makes my ass looks about the size of South America, tying a flannel shirt around your waist is still a cool way to add some variety to a simple look. Bonus points for shirts with prints on the back!



3. Tied around your shoulders
Because it's fucking annoying to carry a shirt in your bag when it gets hot. Also because it resembles a superhero cape. Inspired by this Kera editorial.



4. T-shirt over flannel shirt
This is my favorite out of all because this one seems like something a skater dude from 2003 would wear. Would work wonder with slightly cropped t-shirts and even cropped sweaters! The t-shirt should be slightly oversized to fit over the shirt without looking bulky. Note to self: wear it over a lightweight or sleeveless shirts because you totally don't want to melt into the sidewalk.



5. Flannel shirt as a skirt
Yes. You heard me right. It's possible. And it's not exactly rocket science either.
Here's how you do it: Tie the shirt around your waist, then button it up so that it's covering your legs. Tada, you have yourself a skirt. It will change your life. You're welcome.

All right all right, that's 5 ways to wear the t-shirt + plaid flannel shirt combo. It's like nearly a week worth of outfits! If you're anything like me you can just switch the t-shirt next week and repeat until you graduate.
Now repeat after me: It's easy being fancy when you're lazy!

Zara is being fancy on Twitter: @skeletale

Labels: fashion, how to, outfit post




0 comments

Sunday, November 3, 2013, 11:05 PM

Broke Ass Bitch Club: TP Pagi Surabaya

Earlier today I did my monthly fashion ritual that is going thrifting. To me it's more than cheap clothes, there's beauty in the search, the art of lost and found. If I could I would totally thrift for a living. To say I'm thrift-obsessed is an understatement if ever there was one. The thing is it's not easy to find decent thrift stores here, and online secondhand-clothes shopping just does not count as thrifting (they're overpriced and full of gaudy 80s clothes with a mile-wide shoulderpads) so I decided to cut the middleman out and go straight to the big guy.



welcome to my turf


Tugu Pahlawan is a heroic monument by day, and a thrifting heaven um, by really early in the morning. It's like the Hannah Montana of city landmarks. On weekdays it's huge and quiet but by Sunday morning it turns into a sea of people going shopping or just chilling around. Nearly 2 km worth of pedestrian and even half of the road are covered by stalls selling clothes, either new and secondhand. The market is affectionally known as TP Pagi, a wordplay Tunjungan Plaza that is a famous high-end shopping mall. Quite true, it's like an entire mall being lined up on the streets but with way cheaper clothes and way more smelly people.

They have everything from flannel shirts to vintage silk slips. Prices range from Rp 5000 to Rp 50000 and above, don't forget to haggle! If you're lucky you can get rad clothes for hardly no money or even better, designer shit. Today I spotted a legit looking Kenzo t-shirt (that I didn't buy because it's PEACH, there's no way in hell I would wear peach) for like Rp 10000 and a HELLCATPUNKS tartan pants. Back then I bought a Shirley Temple dress and my friend Prinka got a Vivienne Westwood cardigan (lucky bitch).

Let's get to my gets!



When will I stop buying black sweaters? The answer is never. Especially if it's Rp 10.000 and has tiny spikes on it. This sweater fits me nicely even though it's slightly oversized and I'm trying to get used to batwing sleeves. The off-shoulders make me feel like the goth version of Alex Owens.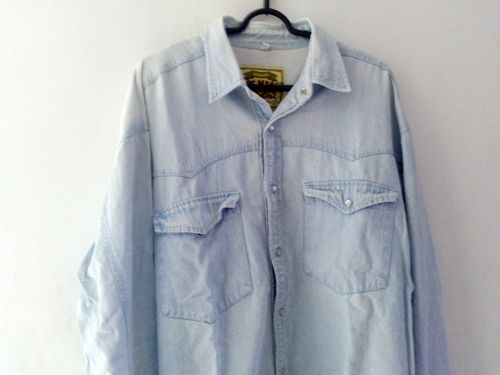 A plain bleached denim shirt for classes. It's huge and I might have to alter the sleeves or something. Rp 35.000 because the abang-abang is a stubborn asshole.

Since it's super crowded and hot you have to work fast and thorough. Who knows if there's a Gaultier blazer waiting to be brought home? You never know what they have in store unless you check out every single smelly shit in there. Wearing simple clothes like shorts and a t-shirt totally helps with the heat. Also be really careful with your belongings, you will push people around and get pushed around so make sure your phone and wallet etc are safe! When you're done shopping, don't forget to disinfect your new gets by washing it in hot water.

Do yourself a favor and check out this magnificent place when you're in town. When you survived the heat and the people with five 10 ribuan sweaters in hand, celebrate properly like the true Spartan warrior that you are.

Labels: fashion, how to, life, personal, purchase




5 comments

Older Post // Newer Post