the girl
Zara / '95 / Indonesia
------------------------------
an alternative style blog

(and more)
------------------------------


connect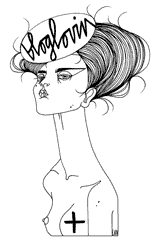 friends

blogrolls

Tuesday, May 20, 2014, 10:32 AM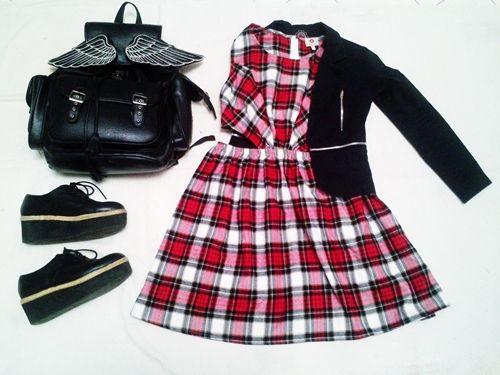 karmaloop dress / belle of the brawl platform oxfords / lost mannequin backpack / screamous blazer


A few days ago, right after getting this dress in the mail, I posted a pic of it on Ask.fm. Someone asked me about it:

"What's that? Is that... red? But it also has white on it? I'm so confused!"

Flashback to a few months ago, I wore bleached blue jeans and a red plaid shirt to class. Some people actually cheered.

"You look good today!"
"Are those.... flats?"
"What happened to your black jeans?"
"Are you okay?"

Fun fact: I don't always wear all black! I wear whites, really dark greys, and sometimes red. Sometimes. Plaids are considered neutral to me, as long as they stick to my color palette. What fascinates me the most is the fact that people are actually amused at the sight of me wearing anything other than black. I understand that after seeing me on a daily basis wrapped in just about any variant of plain black tops and dresses available out there, a red dress on me is gonna look off. In a good way, hopefully.

It makes me wonder what my appearance says about me to others. Not in an insecure, what-if-they're-judging-my-outfits kind of way--I'm just genuinely curious. Like, what is the image that my clothing choices are projecting to others? What do people think my black dresses are saying? Is there a subliminal message people are getting with the fact that I always wear tall shoes? Do they make me look unapproachable?

There is so much more to our clothing choices than we might imagine. We make snap judgements about people from the clothes they wear. Our clothes make a huge difference to what people think about us--and without us knowing or in ways we couldn't even imagine. People make their assessments in the first few seconds of seeing another and our clothes say a great deal about who we are and can signal a great deal of socially important things to others.

Of course there's always one's mood to take into account, but sartorial laziness is an easy bad habit to slip into. I firmly believe that that we should dress not how we feel, but how we want to feel. Which clothes make you feel powerful? In control? Wealthy? Sexy? The clothes we choose are sending a message to those around us, but also to ourselves. It's like how actors put on a costume to channel their character. That's just as true for everyday life.

What do you think your clothes are saying about you? What do you want your clothes to say about you?

Labels: fashion, life, outfit post

1 comments | Leave a comment

Tuesday, May 6, 2014, 8:24 PM

For the first time in my life, I am genuinely afraid of being alone.

No, it's not what it sounds like.

Generally, I like being alone. I enjoy taking time for myself, somewhere with nothing other than my own thoughts, able to hear the things that I often intentionally block out with meaningless conversations and loud music. I am able to carry on for days without any physical human interaction. There's this strange state of bliss that comes with being alone. In fact, I am writing this in a cafe I'm a regular at, accompanied by only my laptop and a cup of my favorite bubble tea. The best method of coping for me is to smother such unfamiliar experiences in warm familiarity like some sort of a security blanket--that familiarity being my very own company.

But then college happened.

People say that college is the time to "make connections" and "build networks" and all that shit but all I do is go to classes, eat lunch, more classes, and that's it. I go out sometimes--alone, of course--to eat out somewhere or to shop for pretty things that I don't actually need only to temporarily make me feel full and happy. Then I'll go back to my room, sitting on my bed, eating takeouts that I order too much. When it's all gone, I'll curl back into my bed, my stomach full but heart empty. Repeat all over again.

Then things started spiraling down quickly. I was unable to go to classes because I felt so lonely that I would sometimes randomly cry in the middle of something. That one time I had an emotional breakdown in a sushi restaurant. And it's not the same as the anxiety you feel when you're worried that others will think there is something wrong with you for not having a partner. It is not the anxiety you feel fearing there is something wrong with you, knowing there must be something wrong with you, believing you are broken. This is the anxiety that makes you think the problem is me and I must fix me.

You see, I'd been out going before all this. I was fun. I liked to have fun and meet people and get to know them. I was popular. I was happy. These things had been easy for me. But in the past few months I'd completely fallen apart. I feel like people are pushing me away for no reason and it makes me feel completely isolated from them. Even a very close friend stopped talking to me, and she got all my other friends with her. I started avoiding people because I don't want to feel ignored when I'm with a group of people. I even stopped going to social events that I used to be super excited about. And since it's college we're talking about, I feel like I won't get anywhere with always being alone. I'll miss out on things, on experiences, on people, on opportunities that lie ahead. I don't want to stay the same old me when other people are constantly changing and growing and becoming bigger and better at something. At this point, I am genuinely afraid that I'm gonna fail in life.

But the hardest part of all this is admitting that I'm not okay and that I feel extremely lonely and ignored and left out. This isn't me, right? Well guess fucking what it became me and I need to get the hell away from this.

Sartre says that hell is other people. Sartre was probably never alone. Hell isn't other people, it's yourself all the time, forever.

Labels: writings

4 comments | Leave a comment

Thursday, February 6, 2014, 12:39 PM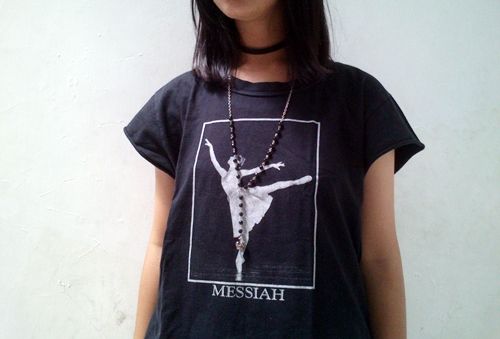 topshop dress / thrifted top / diy choker and necklace


Hi everyone! Here's a simple outfit I wore to go shopping yesterday!
I've been seeing lots of tulle skirts on blogs and street snaps and I wanted to get on the bandwagon without looking too cutesy. Not that there's something wrong with being cute though, it's just that I can't pull it off without looking like a giant grumpy child! The skirt I'm wearing is actually a dress I got from Topshop years ago (also wore it for my Marie Antoinette inspired outfit) and the ballerina printed crop top is thrifted because I'm cheap like that.




dr martens aggy strap boots / lost mannequin winged backpack


Anyway my Aggy Strap boots are finally here!!! After winning a crazy bidding war on eBay and waiting for weeks I'm super excited to wear them and share them in an outfit post! On another note I am now totally broke and therefore can't afford a better camera to take better outfit pictures so please excuse the grainy phone camera pics until I save up enough money to buy a new camera without being tempted to buy shoes.

Labels: blogging, fashion, outfit post

5 comments | Leave a comment

Friday, January 31, 2014, 10:48 PM


So in an attempt to get myself back into blogging I decided to write a new feature! It's kinda like a summary of the month, in which I will write about my favorite activities, books, music, movies, blogs, and other things that I'm loving that month. Hopefully I can keep up with this feature that I will post at the end of every month, I'm really excited to share my love for things that inspire me and make me happy with you! Enjoy

♥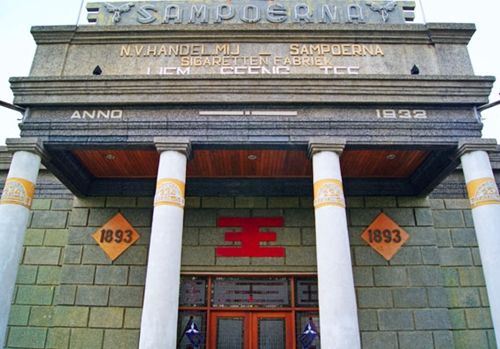 Yesterday I went to House of Sampoerna Museum with my parents. The wonderful Dutch colonial-style building is located in the old part of Surabaya. It has exhibits on the use of cloves and the history of clove cigarettes in Indonesia. When I first entered the building, the smell of cloves and tobacco was in the air (just how I imagine a goth club smells like). Other exhibits include personal belongings of Liem Seeng Tee' the founder of Sampoerna. There were a bike, family photos from various eras, even a kebaya that was once owned by his wife.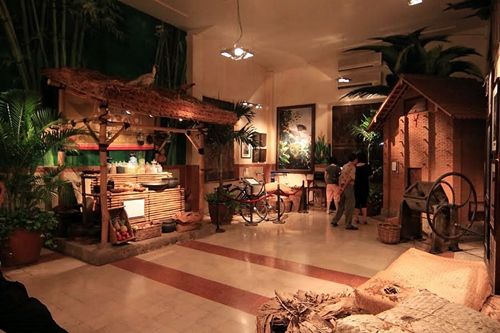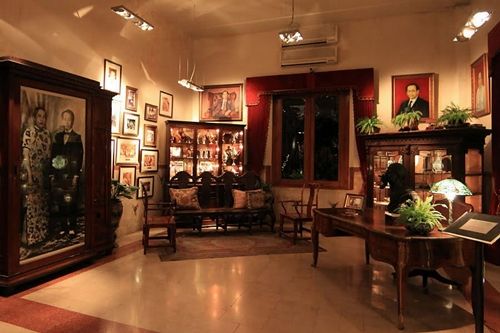 The building was intented to be used as Sampoerna's first major cigarette production factory, and it still is! Upstairs there's an unforgettable view through its wide glass panel where you can see the factory's shop floor, where hundreds of ladies hand roll, trim and pack the Dji Sam Soe brand in frenzied and feverish pace.



As we exited this main museum building, we headed for the restaurant in the side building for a light lunch. The cheesecake was totally one of the highlights of this trip! The place was lovely, it's a fantastic example of Art Deco architecture. Imagine what it would be like to be here 50 years ago! If you're in town, this place is a must visit. The buildings at this site are fantastic, they have fascinating exhibits, and the best thing is that the entry is free!

Things I love this month...
♥ An entire month off before next semester starts!
♥ This piano tribute to Fall Out Boy's Miss Missing You
♥ My mom making Daft Punk jokes
♥ Green tea milkshake
♥ Sleeping in every day!
♥ My long bob!
♥ Saving so many time that was once used for hair styling
♥ Please Kill Me: The Uncensored Oral History of Punk. Such a fascinating book.
♥ Plaid everything
♥ Vacation planning with my best friends (We're thinking waterpark because why the hell not)

That's all for now! Happy Chinese New Year for my Chinese babes, have a fabulous and prosperous year ahead and thanks for the day off! 0 comments | Leave a comment

Thursday, January 23, 2014, 9:55 PM
The ever-so-amazing Miss Nicolette Mason
Stockholm Street Style


dELiA*s / MKL plaid skirt




Nasty Gal tulle skirts


Despite its popularity among models and street style stars, it's still sort of stuck in my "never-would-I-ever" list. It's not that I don't like it, more like the midi skirt doesn't like me! The idea of wearing a voluminous amount of fabric that visually bisects your calf doesn't seem good to me. In the mean time I'll just admire them and the super stylish girls rocking the hell out of their skirts from afar.....
Talking about admiring them, personally I really like midi skirts made of interesting fabric like jacquard, satin, tulle, or even leather. It adds interesting edge and dimension to an otherwise prim and proper skirt. Printed midi skirts are also really cute, plaid is my favorite! I can't help but pin lots of pictures of midi skirt + cropped or tucked in top combo. Bonus points for wearing it with ankle boots, these skirts were totally made to be worn with ankle boots. Guess it's my thing now?
Would you wear the new length for skirts? Should I jump into the bandwagon?

Labels: fashion, inspiration

4 comments | Leave a comment

<< take me back______________________________take me forward >>

SKELETALE by Zara Zahrina. Copyright © 2012-2014. All Rights Reserved.