the girl
Zara / '95 / Indonesia
------------------------------
an alternative style blog

(and more)
------------------------------


connect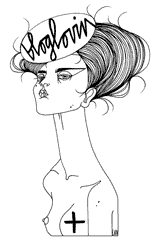 friends

blogrolls

Tuesday, March 17, 2015, 8:08 PM
Labels: ASOS, Chanel, Christian Louboutin, fashion, Gucci, LeiVanKash, polyvore, Salvatore Ferragamo, style, Vivienne Westwood
1 comments | Leave a comment
Sunday, March 8, 2015, 7:35 PM

Since so many of you have been asking on Ask.FM about my makeup routine, I thought I would do a little post about the makeup I currently use on a daily basis. So this actually isn't my daily makeup routine because I don't wear this much makeup every day. I do, however, wear most of this for when I want to look nice for going out. I always get into a little routine with the same products then once I get bored, I'll switch it up a bit and change the colour products around like lipstick, blush and eyeshadow. Over the few months I've had the chance to experiment a lot with my makeup and have found some really great products. Anyways, enjoy!





F A C E


The Body Shop All-in-One Instablur Primer
For a long time I thought a primer would be an unnecessary step to add to my quite time consuming (not really I just a have a hard time waking up in the morning) makeup routine, but then I discovered this primer and it's seriously amazing! It has superb oil control and smoothes out my pores, giving me the airbrushed look that I love.

Max Factor CC Colour Correcting Cream in 085 Bronze
This one is rated 4.4 on MakeupAlley and I just had to! I had a hard time finding a BB/CC cream that suits my skin tone mainly because the Korean ones have very limited shade range (that are light as hell) and this CC cream fits me just right! The coverage is light but it's enough to even out my skintone.

LT Pro Smooth Corrector in Chestnut
This is originally a super high coverage cream foundation but there's no way I would put this all over my face.... I use this cream as a heavy duty concealer to cover up pimples with.

Max Factor Mastertouch Concealer
Ah, the elusive undereye concealer. What is makeup if not to cover up the fact that I only had 3 hours of sleep last night? I apply this in a triangular shape underneath my eyes and blend it all in with my fingers highlighting.

The Body Shop All-In-One Face Base in 052
I apply this powder to set the CC cream and concealer and get rid of any shine and mattify my skin--bonus points for added coverage!

ELF Cheeky Glow Set
This set includes a cheek trio with a matte bronzer, shimmery highlighter, and hands down the prettiest blush color that I've ever seen. It wears as a warm pinky coral and that golden sheen is much more subtle than expected, it creates a glowy highlight without looking like shimmer or sparkle. It only catches the light at certain angles and when you notice it, it just looks brightening and gorgeous!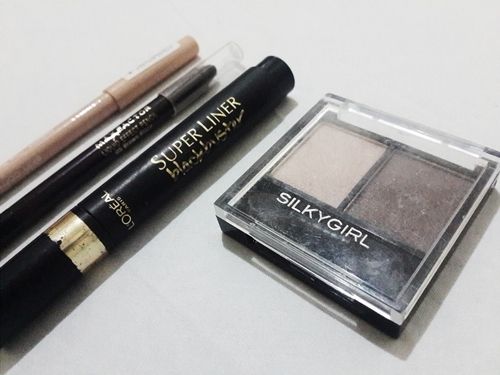 E Y E S


Max Factor Liquid Effect in Black Fire
Notice a pattern of brands already? This is a multi-tasking eye pencil with a smudging tip that does the job nicely. Sometimes I also swatch this on my hand and use a small angled brush to pick up a little amount to fill in my brows.

Silkygirl Double Intense Duo Eyeshadow in Maple Flush
I use a light wash of the lighter color under my browbone and the darker shade on my lid to add colors and make it look like I'm actually making an effort to wear makeup. Sometimes I go crazy with the darker shade on days when I feel like pissing people off.

L'Oreal The Infallible Blackbuster Liquid Eyeliner
When I want a more dramatic look I always reach for this liquid eyeliner. The felt marker tip goes on really easily, I really wish I could master the winged eyeliner but I'm still working on it!

Misslyn Cover Up Pencil in Neutral Beige
You know how people always say to line your waterline with white eyeliner to make them look bigger and shit? It makes me look like an alien in tears. So I opt for this nude-colored pencil to get the brightening effect without all the creepiness.




L I P S


Nivea Fruity Shine Strawberry Lip Balm
Because I'm a human being and sometimes my lips get dry and all.

Revlon Just Bitten Balm Stain in Crush
I have been getting tons of wear out of this beautiful deep-but-still-wearable color! I love how it can really bump up a simple makeup look, not to mention the color seriously lasts forever.

NYX Soft Matte Lip Cream
People have been raving about this and I couldn't help but to jump on the bandwagon! The matte finish is perfect because I hate having my hair sticks on my lipgloss and the smell is just divine! I wear Abu Dhabi on a daily basis, Stockholm when I want to look slightly healthier and Copenhagen when I'm out to kick some ass.

And that's a wrap! I hope you enjoyed this post. I love having a nosey into everyone's makeup bags and I also find it useful to see what others are loving so I thought you'd like to see mine too. If there's a makeup product you can't live without, I'd love to know! I'm always looking for new makeup products to try so I'd love to hear your favorites ♥

Labels: beauty

4 comments | Leave a comment

Tuesday, August 5, 2014, 12:41 PM

Kohl-rimmed smoky eyes, black lace, slightly menacing look with her affected hint of danger, dark eroticism and lots of attitude. There was something foreign, strange, and otherworldly about her. Her beautiful but suggestive clothing and jewelry carried the connotation that she was a sort of man-eater, who aimed at trapping and tricking men, using them instead of loving them, or destroying their lives. She was The Vamp.


vamp

noun
1. a woman who uses her charm or wiles to seduce and exploit men

verb
1. To seduce (a man) with intent to exploit him.

2. To behave like a vamp.

Vamp is a term used to describe a particular type of femme fatale, popular in silent films. The term is a shortening of the word vampire, and is used to describe a woman who is glamorous in an exotic, stylized and usually overstated manner. But the term was initially coined after the success of Theda Bara's single surviving film, A Fool There Was (1915), in which her man-destroying character is listed in the credits simply as "The Vampire."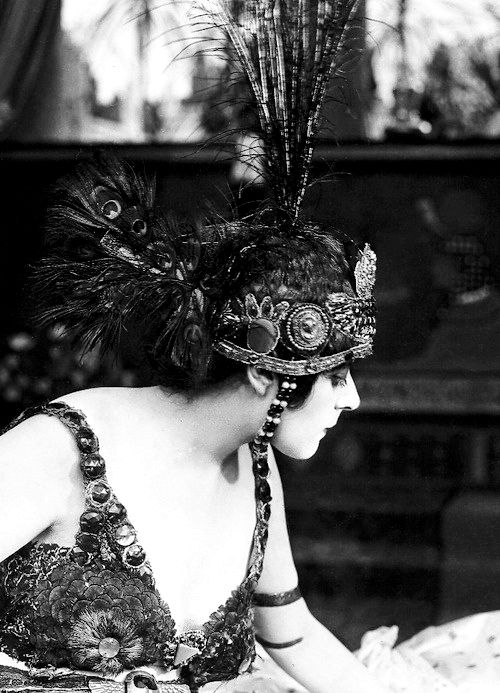 Theda Bara (1890 – 1955)remains the original vamp. Her set waves, dark features, and painted lips exemplified the fragile and mysterious beauty most desired of leading ladies at the time. She was portrayed as an exotic and slightly spooky lady of Eastern origin, raised by her French actress mother and Italian sculptor father under the shadows of the Sphinx. Rumor has it that her stage name was an anagram for "Arab Death". In reality, she was born plain old Theodosia Goodman in Ohio, the daughter of a Polish father and Swiss mother.

Her vampish roles often had an Oriental theme, allowing for lavish and sexually suggestive costumes. She was entitled to the ultra-glamorous and scandalous costumes at that time. Drapes of luxurious fabrics, exotic jewelry and headdresses, bandeau tops made out of sparkling beads, low-cut silk dresses, elaborate headpieces, feathered turbans, fur stole, the works.



Vamp fashion was exotic, luxurious, and escapist. She represented the luxury and excess that was so valued during the roaring twenties. Sadly the majority of Theda Bara's films were destroyed in a fire in 1937 and only a few remain, but she remains the quintessential vampish icon of the 1920s.

A modern take on Theda Bara's vamp look


Labels: fashion, inspiration
1 comments | Leave a comment
Tuesday, May 20, 2014, 10:32 AM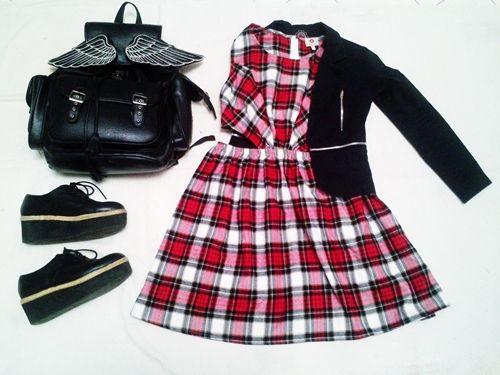 karmaloop dress / belle of the brawl platform oxfords / lost mannequin backpack / screamous blazer


A few days ago, right after getting this dress in the mail, I posted a pic of it on Ask.fm. Someone asked me about it:

"What's that? Is that... red? But it also has white on it? I'm so confused!"

Flashback to a few months ago, I wore bleached blue jeans and a red plaid shirt to class. Some people actually cheered.

"You look good today!"
"Are those.... flats?"
"What happened to your black jeans?"
"Are you okay?"

Fun fact: I don't always wear all black! I wear whites, really dark greys, and sometimes red. Sometimes. Plaids are considered neutral to me, as long as they stick to my color palette. What fascinates me the most is the fact that people are actually amused at the sight of me wearing anything other than black. I understand that after seeing me on a daily basis wrapped in just about any variant of plain black tops and dresses available out there, a red dress on me is gonna look off. In a good way, hopefully.

It makes me wonder what my appearance says about me to others. Not in an insecure, what-if-they're-judging-my-outfits kind of way--I'm just genuinely curious. Like, what is the image that my clothing choices are projecting to others? What do people think my black dresses are saying? Is there a subliminal message people are getting with the fact that I always wear tall shoes? Do they make me look unapproachable?

There is so much more to our clothing choices than we might imagine. We make snap judgements about people from the clothes they wear. Our clothes make a huge difference to what people think about us--and without us knowing or in ways we couldn't even imagine. People make their assessments in the first few seconds of seeing another and our clothes say a great deal about who we are and can signal a great deal of socially important things to others.

Of course there's always one's mood to take into account, but sartorial laziness is an easy bad habit to slip into. I firmly believe that that we should dress not how we feel, but how we want to feel. Which clothes make you feel powerful? In control? Wealthy? Sexy? The clothes we choose are sending a message to those around us, but also to ourselves. It's like how actors put on a costume to channel their character. That's just as true for everyday life.

What do you think your clothes are saying about you? What do you want your clothes to say about you?

Labels: fashion, life, outfit post

1 comments | Leave a comment

Tuesday, May 6, 2014, 8:24 PM

For the first time in my life, I am genuinely afraid of being alone.

No, it's not what it sounds like.

Generally, I like being alone. I enjoy taking time for myself, somewhere with nothing other than my own thoughts, able to hear the things that I often intentionally block out with meaningless conversations and loud music. I am able to carry on for days without any physical human interaction. There's this strange state of bliss that comes with being alone. In fact, I am writing this in a cafe I'm a regular at, accompanied by only my laptop and a cup of my favorite bubble tea. The best method of coping for me is to smother such unfamiliar experiences in warm familiarity like some sort of a security blanket--that familiarity being my very own company.

But then college happened.

People say that college is the time to "make connections" and "build networks" and all that shit but all I do is go to classes, eat lunch, more classes, and that's it. I go out sometimes--alone, of course--to eat out somewhere or to shop for pretty things that I don't actually need only to temporarily make me feel full and happy. Then I'll go back to my room, sitting on my bed, eating takeouts that I order too much. When it's all gone, I'll curl back into my bed, my stomach full but heart empty. Repeat all over again.

Then things started spiraling down quickly. I was unable to go to classes because I felt so lonely that I would sometimes randomly cry in the middle of something. That one time I had an emotional breakdown in a sushi restaurant. And it's not the same as the anxiety you feel when you're worried that others will think there is something wrong with you for not having a partner. It is not the anxiety you feel fearing there is something wrong with you, knowing there must be something wrong with you, believing you are broken. This is the anxiety that makes you think the problem is me and I must fix me.

You see, I'd been out going before all this. I was fun. I liked to have fun and meet people and get to know them. I was popular. I was happy. These things had been easy for me. But in the past few months I'd completely fallen apart. I feel like people are pushing me away for no reason and it makes me feel completely isolated from them. Even a very close friend stopped talking to me, and she got all my other friends with her. I started avoiding people because I don't want to feel ignored when I'm with a group of people. I even stopped going to social events that I used to be super excited about. And since it's college we're talking about, I feel like I won't get anywhere with always being alone. I'll miss out on things, on experiences, on people, on opportunities that lie ahead. I don't want to stay the same old me when other people are constantly changing and growing and becoming bigger and better at something. At this point, I am genuinely afraid that I'm gonna fail in life.

But the hardest part of all this is admitting that I'm not okay and that I feel extremely lonely and ignored and left out. This isn't me, right? Well guess fucking what it became me and I need to get the hell away from this.

Sartre says that hell is other people. Sartre was probably never alone. Hell isn't other people, it's yourself all the time, forever.

Labels: writings

5 comments | Leave a comment

<< take me back______________________________take me forward >>

SKELETALE by Zara Zahrina. Copyright © 2012-2015. All Rights Reserved.