the girl
Zara / '95 / Indonesia

------------------------------

an alternative lifestyle blog

(and more)

------------------------------


connect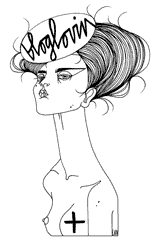 Thursday, June 16, 2016, 11:33 PM

why! are they! so pink!!!) and when they do, they give somewhere between a dewy and a super dewy finish which isn't the slightest bit flattering on my already oily skin. Which is why for the last few months I thought I would never think of picking any other cushion foundation aside from my trusted Laneige one but an impromptu visit to The Face Shop counter one day proved me otherwise.



As evicted by the name, The Face Shop Oil Control Water Cushion claims to have oil control properties. This alone should have been enough to sold me into it, but what actually intrigued me is the fact that this cushion comes in warmer shades compared to other cushions I have tried. I got it in V205 which is the second darkest shade available.



The packaging is your default cushion packaging, a plastic compact with a huge built-in mirror (I live for cushion mirrors!), a tray for the air sponge, and the cushion underneath. The size is also similar if not the same as all other cushions. The casing feels heavier and more luxurious compared to my Laneige Snow BB Soothing Cushion case, with metal accents and glass-like cover unlike Laneige's plasticky all over casing. The refill for this cushion can fit into Laneige's casing. However, the Laneige refill cannot fit into The Face Shop's casing.


Laneige cushion in 31 (left) and The Face Shop cushion in V205 (right)


The Face Shop cushion in V205 (left) and Laneige cushion in 31 (right)


This cushion looks a teeny bit orange when swatched but it is in fact a good match for my ruddy skin without going ashy. Next to my Laneige cushion, you can see the product is more viscous and dry. When blended, you can see it's less dewy and gives more coverage. It starts off slightly shiny but give it some time and it will settle into a matte, slightly powdery finish. This cushion also has a slightly thicker texture than a typical cushion which is more prone to cakeyness although correspondingly, it also has much greater coverage. One layer of this cushion is sufficient to cover redness and even out my skin tone, and two layers cover up dark spots just enough without the need of a separate concealer. I'd say this feels more like a traditional foundation in terms of finish and coverage but with the ease of a cushion compact.



This is how it looks after around 5 hours of wear. To give it a proper test, I'm going sans primer, concealer, and setting powder. The oil control claim doesn't really live up to its name considering that I started to get oily after like 4 hours although still offering that medium-full coverage and little to no oxidizing. But there's nothing blotting paper can't fix! I tried this cushion another time with The Body Shop Instablur primer underneath and much preferred how the cushion sat on my skin this time--it seemed to soak up any excess oil on my face so that by the end of the day, I still look at least semi-matte.

Overall, if you're looking for a medium coverage cushion foundation with a warm undertone that doesn't leave you looking gray or ashy, this one's for you. In terms of oil control, this product isn't all that great unless you back it up with a good mattifying primer and perhaps a swipe of setting powder.

Tip: Work quickly especially if you plan to apply second layer to avoid piling up and looking cakey!

Have you tried any The Face Shop cushion?



AnythingbutM said on July 8, 2016 at 9:48 PM

could you tell me what's your foundation shade in mac
I think I'm going to purchase this I just want to make sure that I pick the right shade
btw you're stunning and Thanks for the review

said on December 27, 2016 at 12:37 AM

I'll probably be returning to read through more, thanks for the advice!


<< take me back______________________________take me forward >>


SKELETALE by Zara Zahrina. © 2011-2016. All Rights Reserved.